MountainWise Partnership for Health
The MountainWise Partnership for Health is a Duke Endowment funded Healthy People Healthy Carolinas (HPHC) coalition which is focused on improving regional health outcomes through healthy eating and active living, primarily in Swain, Jackson, and Macon Counties initially. The coalition is composed of community and professional representatives engaged in the work of public health, food systems development, education, economic development, local government, and food security programming. The coalition works to reduce rates of chronic disease and illness by planning, implementing, and supporting evidence-based interventions which result in changes to participants' knowledge, skills, attitudes, or behaviors, or improvements in local policies, systems, or environment.
Interested in learning more?
For more information, contact Nicole Hinebaugh at nicoleh@mountainwise.org

Current MountainWise Partnership for Health Projects
Community Wellness Program Toolkit
MWP4H has supported the development of a Community Wellness Program (CWP) Toolkit. The purpose of the CWP Toolkit is to consolidate information about all of the Community Wellness Programs offered by public health entities across Region 1 of Western North Carolina into one accessible resource. The toolkit is meant to support the development of new Community Wellness Programs and provide additional resources for existing programs. The toolkit includes information about curriculum, evaluation, challenges, incentives, and marketing tools. To create a more robust toolkit, there is also a section that lists national and non-local Community Wellness Programs and a section of other national and non-local health programs that are not specifically community wellness focused, but may have aspects that would be valuable for implementation in a WNC program. As participating Region 1 sites add components to their programs, they can be updated within this Toolkit as well, ensuring partners have access to the most current information and examples available. 
Click here to access the Community Wellness Toolkit Webpage.
Swain County Produce Rx Program
ASAP (Appalachian Sustainable Ag Project), Swain HD, Darnell Farms, and MountainWise's HPHC (Healthy People Healthy Carolinas) program have partnered with support from EMFS (Emerging Mountain Food Systems) to develop and launch a Produce Prescription pilot in Swain County. 49 households who participate in Swain's CHORE or WIC programs began receiving weekly fresh produce boxes on February 7th for 12 weeks delivered to their doorstep from Darnell Farms with additional food items from local producers as well as recipes and food preparation materials and equipment. Participants will also be gathering monthly in-person for a recipe cooking demonstration and family activities. Swain HD also received a weekly box for quality control purposes. The 12 week Swain Produce Rx pilot project wrapped up in April with an in-person gathering at Darnell Farms on April 25th. The event saw great attendance from participants, and included a live cooking demonstration and free strawberry harvesting from Darnell Farms fields as well as children's activities provided by MountainWise and ASAP's Growing Minds program.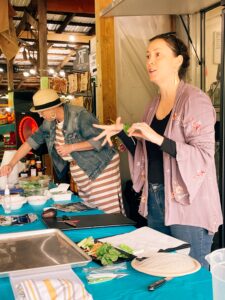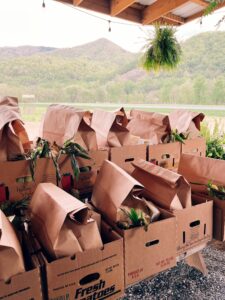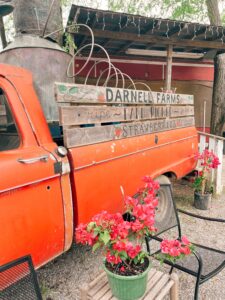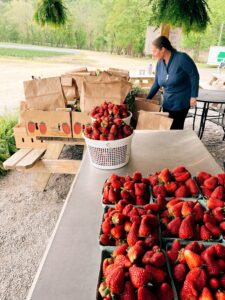 Photo credits to ASAP
Partner meetings have been well underway in order to inform the planning of the next iteration of the Swain Produce Prescription Program, slated to begin in fall of 2023 and impact 50 families in Swain County for six months. This represents a significant increase in the length of the program compared to the pilot project's 12 week time span. This second iteration will also include an additional 50 families in Macon County, as sponsored and backed by the Macon County Health Department. Current partners in this second Produce Rx program include MountainWise, ASAP, Unidxs, Darnell Farms, Swain Co Health Department, Macon Co Health Department, and potentially will include Winding Stair Farm, The Giving Spoon, HIGHTS, and the Double Up Food Bucks program. Current funding sources include the Healthy People Healthy Carolinas project, Swain Health Department, and likely ASAP, Dogwood Health Trust, Great Smokies Health Foundation, and the Double Up Food Bucks program.
Community Food Assessments
Dr. Patrick Baron, an adjunct professor at Western Carolina University, partnered with MountainWise's HPHC (Healthy People Healthy Carolinas) program to support his Health and Human Sciences Graduate class in developing Community Food Assessments (CFA's) for Swain, Jackson, and Macon Counties as the students' Capstone project for 2023. This project collected existing secondary data related to local food system assets and food access resources to better understand the food and health goals and priorities of each county and to recommend primary data collection strategies and protocols for completing these assessments later in the year. The purpose of these assessments is to create a baseline understanding of each county's food system and to identify the gaps and opportunities for improvement therein. These assessments will enable public health entities such as Swain HD, nonprofit organizations, and community leaders to develop the policies, systems, and environmental improvements needed to better meet the food security and health needs of county residents. The Final Presentation for all three Community Food Assessments was Tuesday May 2nd from 2-4pm; click here to view the slides from this presentation!
This completed assessment will serve as the foundation for the second phase of Community Food Assessments in these same counties in which Dr. Baron will focus on a deeper dive of primary data collection and community interviews to develop a more detailed understanding of the gaps and opportunities within our local food systems to support community health. This work will continue through the end of 2023.
MountainWise Partnership for Health (MWP4H) Coalition
MountainWise Partnership For Health's mission is to increase community wellness and improve whole health and socioeconomic outcomes for rural residents and communities in far western NC through healthy eating and active living interventions, systems, and policies.
MWP4H is made up of representatives and stakeholders across all of WNC. Leadership consists of Chelsea Burrell, Trish Hipgrave, Jimmy Villiard, Kristin Washington, Rose James, Millie Smith, Patrick Baron, Jess Mrugala. 
MWP4H is championing health programming across WNC. Click here to see the most recent meeting slideshow.
Macon County Food Council
MWP4H is working with the Macon County Food Council to determine customer and vendor interest in a new Macon County Farmers Market! Flyers targeted at both customers and vendors were created in distributed in English and Spanish for Macon County residents. Flyers had QR codes and links to surveys so that residents could share their thoughts and contribute to shaping what the new farmers market will look like.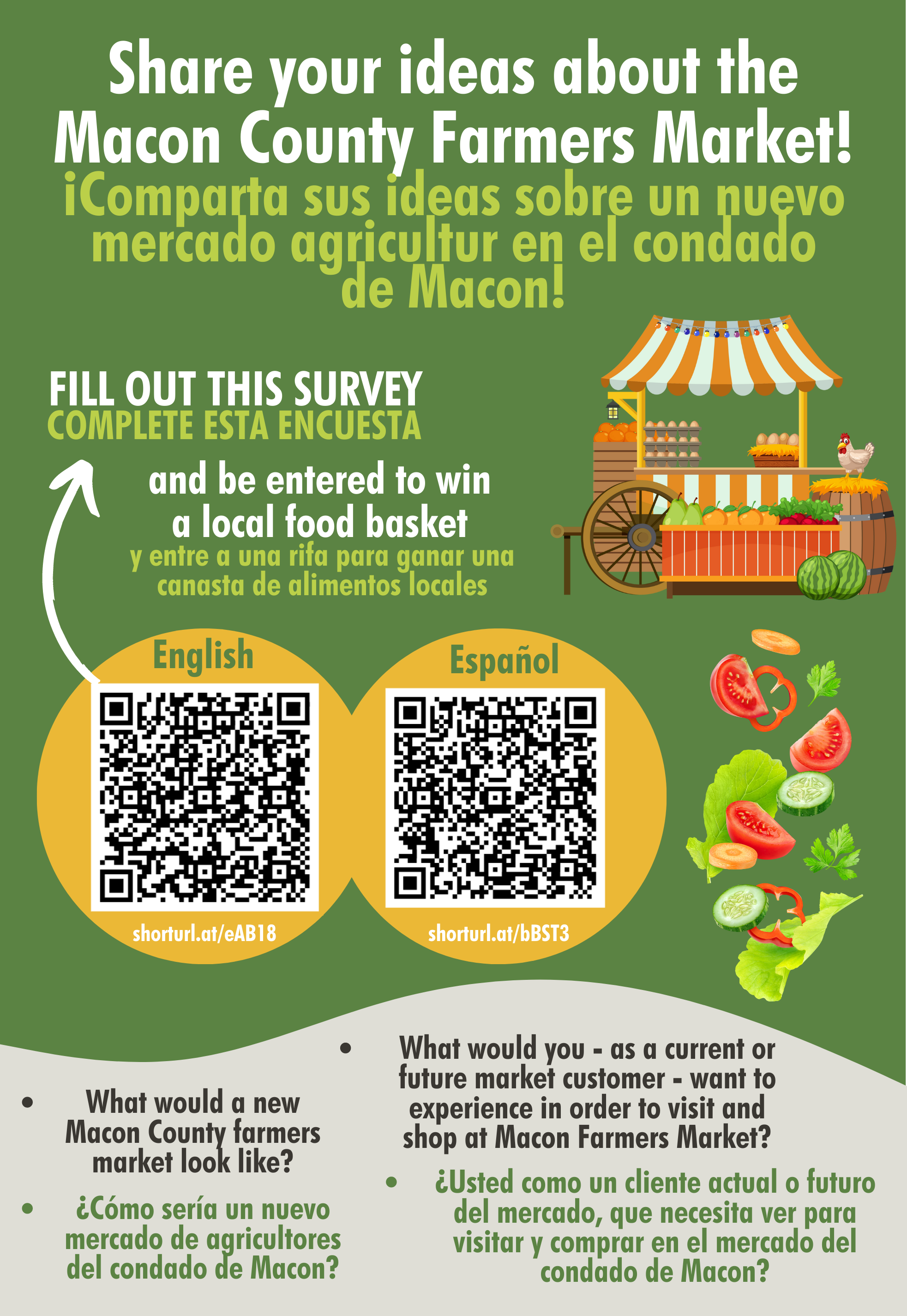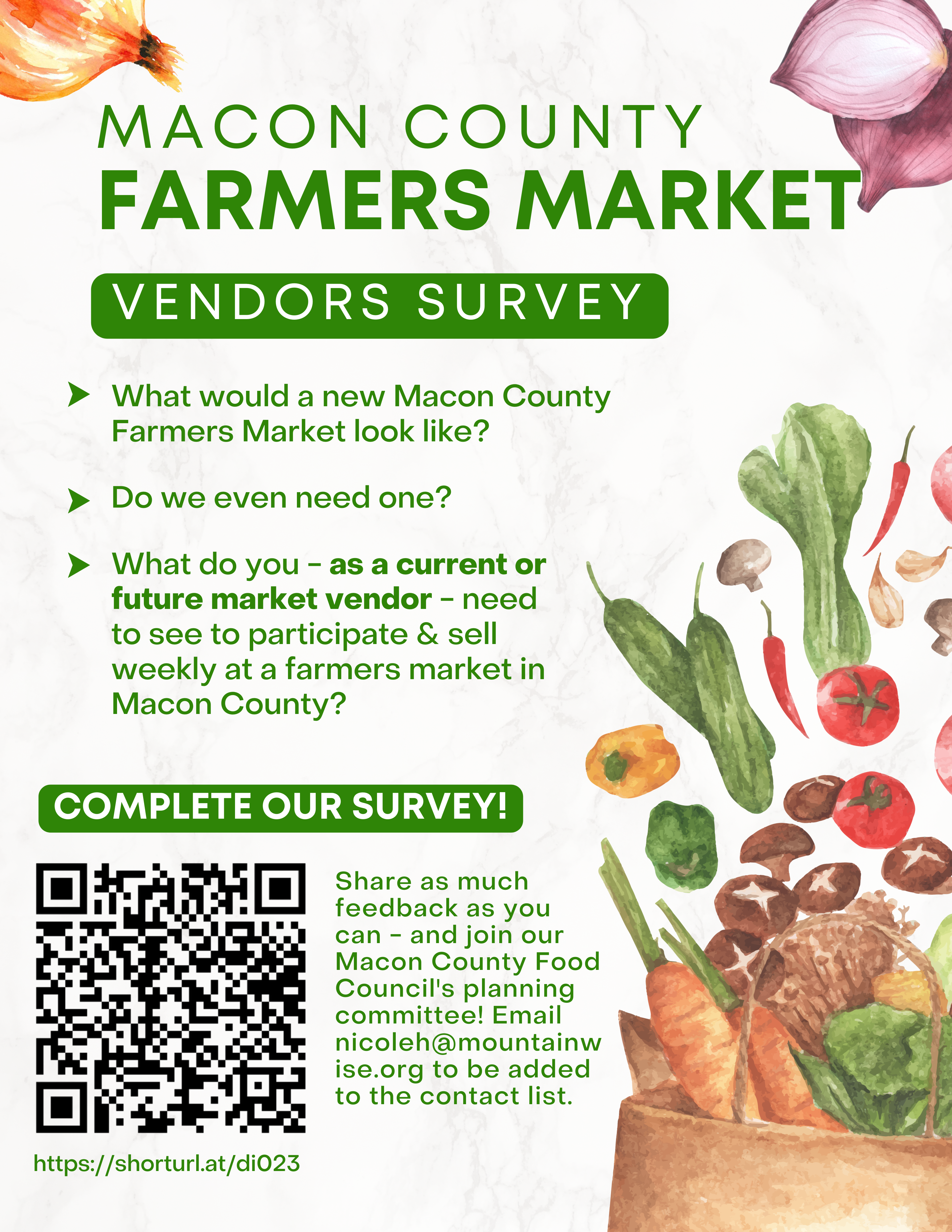 Jackson County Elevate828
MWP4H is currently supporting Elevate828, a six-month Jackson County wellness program. Elevate works to improve the health of Jackson County residents through nutrition education, stress management, and physical activity challenges. Participants will be informed of challenges through email, ChallengeRunner, and RunSignUp. Participants will earn points through these challenges andother activities that will then be redeemed for prizes such as gift cards!
Participants earn points through: 
Completion of a pre, mid, and post surveys

Participation in monthly challenges (2 available each month)

Participation in Move Around Jackson County (a physical activity challenge)

Completion of preventative health screenings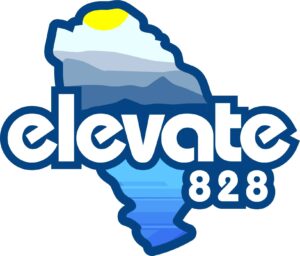 Upcoming Health Screenings:
Elevate828 will be hosting health screenings in August and September! The screening events will include a pre-diabetes screening, height/weight/BMI, cholesterol, glucose, body fat percentage, blood pressure and heart rate, and goal setting. All attendees will be entered to win gift cards and prizes ranging from $50 to $250!
If you are interested in attending one of these screenings, click this link and enter your email to receive the official dates and locations of the health screenings when they are set!
For more information in enrolling in Elevate828, contact Chelsea Burrell at cjburrell@email.wcu.edu