Graham County has a population of 8,000 people and  is nestled among the Great Smoky Mountains of the southern Appalachians.This area is home to some of the highest elevated and most remote mountains east of the Mississippi. The Nantahala National Forest comprises two-thirds of the county and provides Graham County with hundreds of  thousands of acres of wilderness.
Visitors can enjoy a number of outdoor adventures in Graham County due to its abundance of natural amenities. Take pleasure in more strenuous activities like whitewater rafting the Cheoah River, which is noted for its class IV and class V rapids or hiking the Appalachian Trail. For a more peaceful setting, enjoy the many mountain landscapes and breathtaking views.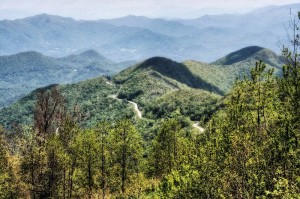 Close Tab (no content)
Graham Active Living
Natural Amenities
Lake Calderwood
This lake was formed in 1930 with completion of the Caderwood Dam and is fed from the Cheoah Lake and River. Many visitors love to kayak the lakes 8 mile run while taking in the beauty of the forest shoreline.
Lake Calderwood Boat Ramp
US 129 West
Robbinsville, NC
Cheoah Lake
"Cheoah" is the Cherokee word for "otter." The Cheoah Lake waters flow from the bottom of Lake Fontana and are always cold, resulting in the occasional lingering fog over the Lake. Visitors enjoy boating, canoeing, and fishing for trout.
Fontana Lake
This 29 mile long lake is surrounded by the Great Smoky Mountains National Park and attracts many boaters and fisherman, but is never crowded.
Lake Santeetlah
The peacefulness of Lake Santeetlah draws many visitors. It is surrounded by 76 miles of natural shoreline. Fisherman are especially attracted to the lake because of the variety of small and large bass, and walleye fish.
Joyce Kilmer Memorial Forest
Dedicated to the Poet, Joyce Kilmer, this 3800 acre forest is considered by many to be the most beautiful in the world.
1070 Massey Branch Road
Robbinsville, NC 28771
828.479.6431
Santeetlah Bike Trails
The Santeetlah Lake Trail is a 15 mile trail open to mountain bikes, horses, and hikers. The trail follows a number of open and gated Forest Service roads with a short portion of single-track. Large sections of the trail hug the shoreline of Lake Santeetlah offering beautiful mountain lake views. The primary trailhead is located at the intersection of Hwy 143 (NC1127) and Snowbird Road (NC1115). Parking is available at an alternate trailhead. Look for the sign Long Hungry Road (FSR #2586) and Carver Cemetery. Parking is available on the upper road, adjacent to the cemetery.
300 Woods Road
Fontana Dam, NC 28733
828.498.2211
www.fontanavillage.com


Park & Recreational Facilities
Fontana Village Resort
A year-round vacation property featuring swimming pools, trails for hiking and biking, a fitness center, and a championship disc golf course. The resort also offers excursions to the Nantahala Outdoor Center for whitewater rafting adventures.
Graham Healthy Living
Farmer's Markets
Graham County Farmers Market
Check out the locally grown, and homemade and handmade items from local farmers, growers, and craftsmen. Open every Saturday from 8 am – 12 pm, July through October
21 S. Main Street
Robbinsville, NC 28771
Stecoah Tailgate Market
Stop by the Stecoah Valley Cultural Arts Center to pick up fresh veggies and locally grown and crafted food products. Open everyWednesday from 8 am – 11 am, June 28 through mid-September.
121 Schoolhouse Road
Stecoah, NC 28771
www.stecoahvalleycenter.com/programs


Healthy Corner Stores
Wolf Creek Grocery
Stop in to pick up some locally grown produce and pick up a healthy snack at the deli!
N Carolina 28,
Robbinsville, NC 28771


Local Food Providers
Lynn's Place
Homemade comfort foods with healthy options including salads and seafood.
237 East Main Street
Robbinsville, NC 28771
Yellow Branch Cheese & Pottery
A farm located near Fontana Lake in Graham County featuring a variety of artisan cheeses handcrafted organically. It also features a pottery studio where visitors are encourage to watch the works in progress and tour the grounds.
136 Yellow Branch Circle
Robbinsville, NC 28771
828.479.1042
Graham Tobacco-Free Living
Success Stories
Working with the Board of Commissioners
The Board of Commissioners requested information on tobacco free parks to be presented during their work session in April of 2013. After listening to the information provided by MountainWise and the Graham County Health Department, they decided not to vote on the ordinance and instead requested even more data to be provided.
In May of 2013, MountainWise worked with Robbinsville High School HOSA students to gather thoughts on tobacco free parks through surveys. Information was compiled to be shared with the Board of Commissioners.
Graham County Farmers Market
In July of 2013, the Graham County Farmers Market moved it's location to the grounds of the Graham County Health Department, a tobacco-free facility. Abiding by its rules, the Graham County Farmers Market is now a tobacco-free market.