Haywood County was established in 1808 and is the third largest county in Western North Carolina. It has a population of 57,000 and is made up of the four towns of Canton, Clyde, Maggie Valley, and Waynesville. Waynesville, the county seat, has been recognized multiple times for its charming town and natural beauty. It has been voted Best Undiscovered Town, Best Main Street Town, Best Small Town, and Best Mountain Town in the third edition of America's 100 Best Places to Retire.
Haywood County has 14 mountain peaks reaching more than 6,000 feet in elevation including Richard Balsam, Mt. Guyot, and Cold Mountain, which was inspired by the national bestselling book by Charles Frazier. Haywood County is believed to be the highest elevated county east of the Mississippi with an elevation of 3600 feet.
Close Tab (no content)
Haywood County Community Health Assessment (CHA)
Haywood Active Living
Natural Amenities
Great Smoky Mountains National Park
This is one of the most visited national parks in the US. Enjoy a wide range of outdoor activities including hiking, biking, fishing, and camping. The park also features waterfalls, wildflowers, and wildlife viewing.
Pigeon River Walking Trail
Visitors can access this mile and a half walking trail along the Pigeon River in Canton. Along the trail are benches to relax and enjoy the scenery of the Pigeon River.
www.cantonnc.com


Park and Recreational Facilities
Haywood Regional Health and Fitness Center
The Haywood Regional Health and Fitness Center is a is a 54,000 square foot facility located in Clyde open seven days a week. Amenities include a six lane heated pool and therapy spa, 3,000 square feet of cardiovascular equipment with cardio-theater, 1,200 square feet of Body Master and Hammer strength training equipment, 1/10 mile indoor walking track, gymnasium and rock climbing wall, racquetball courts, spin studio, steam room and sauna, towel and locker key services, and full services locker rooms including showers and hair dryers. The facility offers an array of services including personal training, fitness classes, massage therapy, nutrition education, cardiac rehabilitation, physical therapy, body fat analysis, fitness assessments, and nursery services. Memberships are available for individuals, couples or families with senior citizen rates and corporate membership discounts if applicable. Day, week or month passes are also available. Fitness programming for all ages and fitness levels include aqua, balance, boot camp, strength training, interval, yoga, PiYo, tai chi, spin, Les Mills BodyPump, Les Mills BodyStep, step, Zumba and more. Open 24 hours! All units are connected to wi-fi and are bluetooth compatible.
All About Fitness
All About Fitness is located in Waynesville and is just minutes from Clyde and Maggie Valley. Tools for every fitness goal from beginner to advanced. The friendly staff can help you get started and familiarize you with the equipment. The facility offers everything from cardio treadmills and ellipticals to weight lifting strength training and functional training endurance equipment.
All About Fitness
177 Waynesville Plaza
Waynesville, NC 28786
(828)246-6575
allaboutfitnesswnc.com

Healthy Haywood
Their mission is to improve the health and wellness of all Haywood County residents. The Fitness Finder, updated each year prior to the county Fitness Challenge, is your guide to active opportunities in Haywood County.
Healthy Haywood is facilitated by the Haywood County Health & Human Services Agency
www.healthyhaywood.org
Waynesville Recreation Center
64,000 square foot facility featuring a waterpark, a rubber walking track, basketball courts, a weight and aerobics room, and so much more.
550 Vance Street
Waynesville, NC 28786
828.456.2030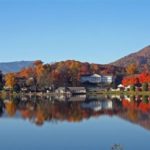 Lake Junaluska
Lake Junaluska offers beautiful walking trails for community members and visitors to enjoy the amazing views in Lake Junaluska. Spectacular views can be found any time of the year at this beautiful mountain community.
www.lakejunaluska.com
Town of Canton Armory
Grab your tennis shoes and come check out the Armory in Canton, NC! The Town of Canton Armory is now open to the public Monday through Friday 7:30 AM- 9:30 AM.
71 Penland Street
Canton, NC 28716
www.cantonnc.com
Waynesville Greenway
The Waynesville Greenway follows Richland Creek for 5.3 miles. This is a multi-use trail and visitors can enjoy hiking and biking while utilizing the Greenway. The path ends at Waynesville Recreation Park.
Maggie Valley Greenway
By parking at the town hall or Maggie United Methodist Church visitors can access this easy 1 1/4 mile greenway.
Waynesville Skate Park
For years local skaters have dreamed of having a place of their own in Waynesville, North Carolina. A place to get off the street, away from traffic, pedestrians and be able to enjoy their sport. The Waynesville Artisan Skate Park is now open to the public, pads and helmets are REQUIRED.
www.artisanskateparks.com/waynesville-nc


Recreational Activities
Bicycle Haywood
Bike Haywood is an advocacy group dedicated to improving health care, community growth, and reduction upon dependence of foreign oil. These Bike Advocates have developed a comprehensive Bike Plan for Haywood County and focus on the needs of bicyclists in Haywood County. In the warmer months there are weekly rides for community members to participate in together to enjoy the scenic routes in Haywood.
Haywood County Fitness Challenge
The Haywood County Fitness Challenge happens every Fall and allows participants to pay a small fee of $10 which provides them with a pass to access a variety of local fitness centers and private businesses offering fitness classes up to 24 times for a 6 week period.The Challenge provides increased physical activity in Haywood County and mini grants to improve fitness and nutrition in the community.
For any questions about getting involved with the Fitness Challenge contact Megan Hauser at mhauser@haywoodnc.net.
Haywood Healthy Eating
Farmers Markets

Canton Thursday Farmers Market and More
This Farmers Market is open every Thursday from 3pm to 7pm and features 100% grass-fed beef, fresh veggies, baked goods, and heritage crafts.
Sorrells Street
Canton, NC 28716
828.734.9071
Haywood Historic Farmers Market
Open Wednesdays and Saturdays at the HART theater in Waynesville, NC from 8AM-Noon. Come visit the second largest market in Western North Carolina! The Winter Market will begin Saturday November 1st until December 13th at the Folkmoot Center located on 112 Virginia Ave in Waynesville, NC.
250 Pigeon St Street
Waynesville, NC 28786
Waynesville Tailgate Market Market
This tailgate market is Waynesville's longest running market and is full of produce grown right here in Haywood County. Open Wednesday – Saturday from 8:00AM – 12:00pm next to the Legino theater.
171 Legion Dr
Waynesville, NC 28716
828.648.6323


Healthy Corner Stores
Bethel Grocery
Located in rural Bethel, Bethel Grocery offers farm fresh produce and healthy snacks so Bethel residents don't have to make a long trek out to the grocery store to purchase the healthy foods they need for their family! Stop in to Bethel grocery and check out these fresh, local offerings.
5692 Pigeon Rd
Waynesville, NC 28726
Ferguson's Supply
Ferguson's Supply has been offering a variety of grocery items to the rural fines creek community since 1919. The store has been passed down for several generations in the Ferguson's family and has continued to prosper and serve as a community gathering space for Fines Creek residents. We are so excited to have Ferguson's Supply join us as a MountainMarket and offer fresh, healthy foods to the Fines Creek community.
11571 Betsys Gap Rd
Clyde, NC 28721


Community Gardens
Canton Community Garden
Bringing their community together through environmental connection.
Johnson Farm Road
Canton, NC 28716
Daydreamz Community Garden
This garden promotes healthier lifestyles by giving people access to outdoor exercise and to fresh vegetables.
Boundary St.c
Waynesville, NC 28786
NCCGP
This Non-Profit organizaion has finally reached it's magic number 100! 100 Community Gardens are now seen across the state of North Carolina. Visit this site to find a state wide directory of community gardens and ways you can get involved.


Local Food Providers
Buy Haywood
This website offers a list of all restaurants in Haywood County that support local farmers by purchasing fresh produce and other farm products.
www.BuyHaywood.com


CSA's

The Ten Acre Garden
Beautiful views surround the Ten Acre Garden in Haywood County. We specialize in u-pick strawberries and raspberries. Many varieties of vegetables are grown in this fertile river bottom are available from April to October.
Chambers Farm Lane
Canton, NC
828-235-9667
farmboy53149@yahoo.com
Haywood Tobacco-Free Living
Work Place Tobacco Policies
Haywood County strives to maintain a healthful environment for all of it's citizens. In February 2009 Haywood County designated all County buildings, vehicles and grounds tobacco and smoke free.
Tobacco Free College Experience
Haywood County Community College is 100% tobacco free. This policy was helped pass by the Asthma Action Team with the Haywood County Health Department. This group provided HCC with 100 tobacco cessation kits.
Success Story
Tobacco-Free Retirees
When the retirement community, the The Great Laurels of Lake Junaluska in Waynesville, wanted to to adopt a smoke-free indoor & outdoor policy, MountainWise was happy to assist them! MountainWise staff analyzed and summarized date from residents' surveys to be presented in a resident-friendly handout and connected them with a local health educator from the VA's Rural Health Team who spoke to the residents on cessation. Due to their efforts this community is now 100% tobacco free! MountainWise also provided tobacco-free signage to be displayed outside the facility.