The Minority Diabetes Prevention Program
The North Carolina Minority Diabetes Prevention Program (NCMDPP) is an evidence-based diabetes prevention program focused on improving the health of African-Americans, Hispanic/Latinx individuals and Native Americans with a goal to decrease the incidence of diabetes in minority communities.
The MDPP is implemented by individuals within the community trained as Lifestyle Coaches under the CDC approved, Prevent T2 (Prevena el T2) curriculum. The program operates within local health departments, health clinics, non-profits, housing authorities, community centers, or any community-based organization, and is supported by health department staff, the MountainWise team, and community partners.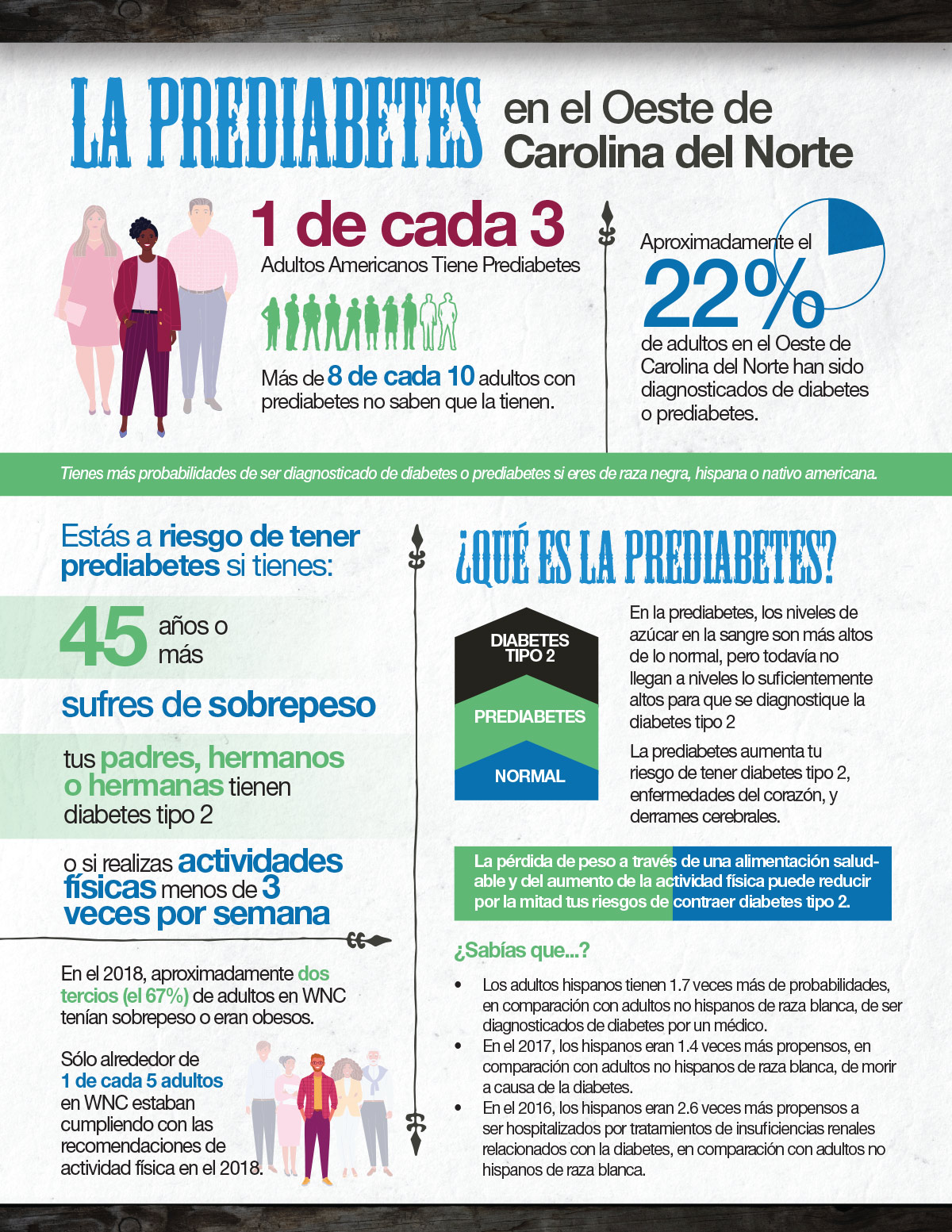 About the Program: 
Prevent T2 is a 12 month program with weekly meetings for the first 6 months, then monthly meetings for the second 6 months 

Classes have 5-10 participants

Classes are facilitated by trained Lifestyle Coaches that guide and encourage participants 

Curriculum provides participants with the skills needed to lose weight, be more physically active, and manage stress

A group environment allows participants to support one another, share ideas and successes, and have fun
About Lifestyle Coaches: 
 Coaches guide participants in developing  and maintaining skills necessary for adopting healthy eating and physical activity habits

They support participants by providing information and encouraging progress and addressing challenges and barriers 

Lifestyle Coaches do not need to be health care professionals, but do need to be effective facilitators who support the group process as it relates to behavior change
Lifestyle Coaches are essential to the overall success of the program. While one of the most important roles of the Lifestyle Coach is to facilitate the class, they also serve as mentors for each participant through their unique journey with the program
About Program Eligibility: 
Participants are eligible based on the following criteria:

18 years or older with a BMI ≥25 kg/m2 (≥23 if Asian American)

No previous diagnosis of type 1 or type 2 diabetes

Diagnosis of prediabetes within the past year or  based on:

HbA1C: 5.7% – 6.4%

Fasting plasma glucose: 100-125 mg/dL

2-hour plasma glucose (after a 75 gm glucose load): 140-199 mg/dL

Previous diagnosis of gestational diabetes (GDM), may be self-reported 

Participants do not have to be an ethnic or racial minority to attend, but our classes are held to being 60% members of an ethnic/racial minority group 
Support: 
MDPP classes include an incentive program designed to increase retention and provide tools to aid in program success. These materials include calorie and activity trackers, food scales, kitchen equipment, t-shirts, gym memberships, and more! 

MDPP helps participants with childcare during class, gas cards and transportation vouchers, and healthy snacks during class. 
For more information, contact: Paige Robinson paige@mountainwise.org
Check us out on Facebook at https://www.facebook.com/NCMDPPR1
Interested in becoming a paid lifestyle coach in your community? Contact Paige Robinson paige@mountainwise.org
Could you be at risk for prediabetes? Take this risk test and find our more about our programs and stay up to date on when classes are starting: surveymonkey.com/r/_prediabetes