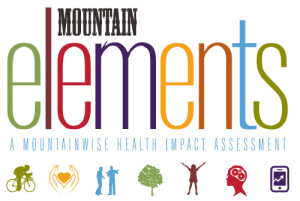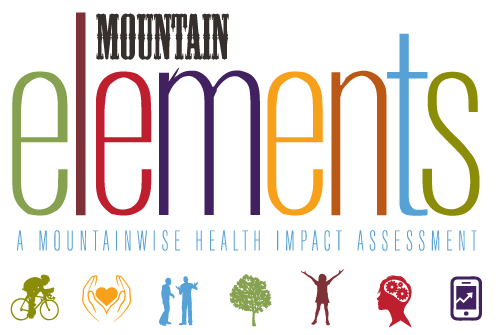 MountainWise is conducting a first-of-its-kind, eight-county health impact assessment (HIA) called MountainElements. The goal is to merge the conversations about planning and health to identify policies, plans, programs and projects that create a healthier region, one that builds capacity through counties and towns. MountainElements is focused on economic growth, job creation, mobility, access to nature, creating healthy conditions for citizens of all ages and abilities, and making sure future generations have a place to grow and prosper. 
There has not been a regional, county-by-county Health Impact Assessment for Comprehensive Plans undertaken in the United States, but Western North Carolina is ready to blaze the trail with MountainElements.
The MountainElements Approach Includes:
Conducting a Health Impact Assessment on proposed plans and policies related to Comprehensive Plans, Transportation Plans, Parks and Recreation Plans for all 8 counties in the MountainWise area.
Developing Health & Wellness elements for Comprehensive Plan integration in all 8 counties.
Evaluating built environment planning and policy through the lens of seven dimensions of health 
and wellness – physical, emotional, social, environmental, spiritual, intellectual and economic.
If you are interested in establishing a MountainElements Diabetes Prevention program william@mountainwise.org.
"Hot Spots"
Community health improvement planning is strengthened when you use data to identify populations most at risk. The regional "Hot Spot" maps were created to identify these pockets of poor health at the census track level. With this data, grant applications are enhanced through visual representation of health conditions in your area. These maps can identify priority populations for interventions to achieve greater health equity and better health outcomes for all.

MountainElements Resources