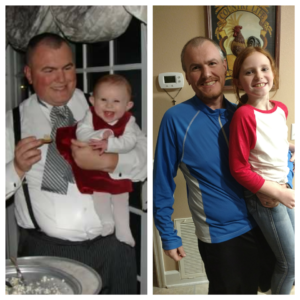 Written by:Angela Mucci
Matthew Lyvers was not planning on participating in a health-focused program; he was simply doing his job to the best of his ability when he went to the Diabetes Prevention Program (DPP). A backup nurse for the DPP, Matt decided to sit in for the group in order to familiarize himself with the program. But when he completed the group diabetes/health questionnaire, he learned that he was at risk for developing diabetes. "I was overweight; my cholesterol and blood pressure were both going up. Also, I had a history of family diabetes." Matt wanted to regain his good health and decided to participate fully in the Diabetes Prevention Program.
Matt had been gaining weight for more than a decade, after serving in the military for nearly 11 years. Having been physically fit when he returned from active duty in 2004, Matt remembered what it was like to be more comfortable with his weight and physical abilities. While serving in the Army, he loved to run 10 miles a day, 3 days a week, in addition to adhering to the rigorous military training. He had to stay strong and on high alert during his active service from 1997-2004, which included time spent on patrol assignments in Baghdad.
After returning home from Iraq, he gained weight quickly while building a life and new career in the US. " I left the Reserves in 2008 and became a Nurse working the night shift and I started gaining weight quickly and put on about 50 pounds by 2014. Then when I left the hospital to go into public health I gained another 30 pounds due to sitting behind a desk."Of his return from Iraq, Matt added: "I didn't like the feeling of being hungry and would eat for no reason.  Also, I believe I used food to help with PTSD."
(* See below for PTSD info and resources)
(D)IABETES (P)REVENTION (P)ROGRAM
It was also after his return home that Matt discovered his love of numbers and data. "I took advanced math in High school but I didn't really understand how much I like data until I started working as an Intensive Care Nurse and then went into public health." Matt utilized his love of data while staying focused on the DPP curriculum and on his goal to lose 20 pounds in 6 months.
It was the perfect fit. Group participants learned about nutrition and received a book with charts and meal-tracking instructions. This was a chance to crunch numbers: calories, sugar, and points for each meal. DPP used numbers and charts, so that participants could track food choices and also time spent doing active things like running or walking. Participants were instructed to bring the completed charts back for each meeting. For a visual or data- inclined person like Matt, this type of food-charting was an engaging and helpful way to stay focused and motivated.
Food-charting, which required writing down the carbs, the sugar or the calorie amounts, provided the opportunity to analyze the costs and benefits of eating certain foods, and to make informed decisions based on the data. Matt returned each week with his completed food log and listened to the feed-back, which included further information about things like nutrients, carbs, sugar, and protein. He made informed changes and started seeing satisfying results on the scale. Seeing weight drop provided momentum, as did increased energy and positive feedback. He received a wellness benefit worth 150 dollars from his insurance company and upgraded from a food-charting book to an electronic devise, a fit bit. The fit-bit offered even more data, and Matt could track his heart rate, steps and easily access food related information. He combined all the new info with the food charting system and met his goal to lose 20 pounds in just over 2 months!
SMALL STEPS
One thing that can prevent people from making healthier lifestyle choices is the false belief that their lives (including the food they eat) will be unrecognizable and unappetizing. Often times though, there are small adaptations which add up to create big results. Here are some tips from Matt, which he learned through trial and error.
Matt's Tips For Healthy Eating:
Be mindful of sugar, and check out food labels. There are so many ways to reduce sugar. For example, I switched oatmeal and yogurt brands, in order to consume less. This made a big difference, and so did putting less sugar in my coffee, a little less each day. I reduced the amount of morning sugar consumption from 60 grams to 20 grams.  Overall I still eat the same amount of calories, but with less sugar!

I look at menus

before

going to a restaurant so I am not surprised when I get there. This makes it more likely that I will make a healthy choice.

I used to eat two turkey sandwiches for lunch. Now I eat one sandwich with more meat and filling inside. This reduced the amount of "empty carbs" and increased the protein.

Don't stop doing the things you enjoy. I love pizza, and I still eat it. Now I eat a salad first and drink water with it. Pre-charting helps me see the numbers and then I am more likely to stick to eating only two slices.

Plan ahead. I keep snacks at the office, which keeps me from being ravenous and eating a bowl of pasta when I get home.

Don't think of it as having to eat less food. I actually eat more food than I used to. I just eat better things now.

It is important to be ok with "messing up." If I eat a huge piece of cake I don't have to beat myself up or eat more cake if I feel bad. It's ok to just start over the next day.
NEWLY DISCOVERED FOOD
Matt also started eating different things, like quinoa, an easy to make ancient grain packed with nutrition. "I never knew what quinoa was, and now I use it as a rice replacement in chili. Instead of using only rice now I use 1/3 rice, 2/3 quinoa. It's delicious. "
PRESENT DAY:
Matt participated in the DPP program for over a year and lost more than 100 pounds, currently weighing in at 168-170 pounds. "The DPP class ended in January, and I have maintained my weight since then." He stated that he could still lose another 20 pounds, but is comfortable where he is, with a "new goal to replace fat with muscle."
Matt sees his regained health as a "second chance to maintain what I have. I have an 8 year old and a 4 year old. Now I have energy to go out and bike with them after work and can show my daughter things on the bike.  I can also get down on the floor and play with them. Our family prepares meals now, and the kids ask for healthy food, so I know they are learning things." In addition to regaining his physical mobility, Matt's blood pressure returned to the normal range and his heartburn is gone. He has become a lifestyle coach for the Diabetes Prevention Program and continues to pass on his experience while working with new participants.
Contact William Pertet, william@mountainwise.org in order to inquire about local Diabetes Prevention Programs.
RESOURCES:
*P.T.S.D.  or Post Traumatic Stress Disorder can affect people who have experienced one or multiple traumatic events. Traumatic events include car accidents, shootings, abuse and combat situations, to name a few. According to the VA, "about 11-20 out of every 100 Veterans (or between 11-20 %) who served in "Operations Iraqi Freedom" and "Enduring Freedom" have PTSD in a given year." Having untreated PTSD is one factor that can contribute to addictions such as opioid, alcohol or food addictions, and can lead to suicide. There are various treatment options and many people find relief and full recovery from their symptoms. To quote VA.gov: "Getting help for PTSD is problem solving, not a sign of weakness. Take the step."
If you are a Veteran looking for referrals, here is a link with some options. https://www.ptsd.va.gov/public/where-to-get-help.asp
You can also call your insurance company for mental health referrals:
To talk to another combat Veteran, 24 hours a day, seven days a week, call: 1-877-WAR-VETS (1-877-927-8387)
If you are interested in learning more about PTSD, or are seeking treatment, use this link to find information:
http://www.ptsdunited.org/ptsd-statistics-2/
STAY TUNED FOR AN UPCOMING ARTICLE ABOUT THE CONNECTION BETWEEN TRAUMA AND PHYSICAL HEALTH