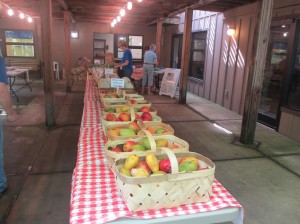 In the mountain area where we live, generations upon generation have relied on backyard gardens and canning to provide fruits and veggies for their daily diet. Today, it would seem that access to fresh fruits and vegetables would be an easy thing to come by with local farmers markets and grocery stores. Sadly, this is not the case. Many in Western North Carolina still struggle to obtain not only fresh produce but the basic food they need to live a healthy life. According to the 2013 Map the Meal Gap study by MANNA Food bank, almost 105,000 folks living in WNC arefood insecure, meaning that they don't always know where they will find their next meal.
Grace Church in the Mountains in Waynesville is trying to bridge the hunger gap in a remarkable way. Not only is the church providing food for those less fortunate, they are focusing on providing access to fresh produce and teaching healthy living skills. At the end of May, church volunteers established a MANNA Food Pantry Farmer's Market held at the church every Saturday. The pantry market provides free produce for Haywood county Manna clients, and features a healthy living resource table, weekly healthy eating cooking demonstrations, and an interactive community garden session, which teaches clients how to plant and harvest their own foods from the garden.
MANNA FoodBank is a private, not-for-profit service organization, founded in 1982, that links the food industry with over 200 partner agencies in 16 counties of WNC.
Susan Williams came up with the idea of a hosting a pantry market last summer. After its initial success, the market is back for a second time this year. In addition to the weekly markets, the church hopes that some of their market clients can work together with Haywood Gleaners to glean their own produce at local farms during harvest time. For more information, contact Grace Church in the Mountains at 828.456.6029.