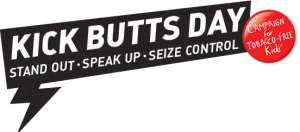 Thousands of kids across America are standing up today, March 19th, to take a stand against tobacco, many right here in Transylvania County. March 19th, 2014 marks the 19th annual Kick Butts Day sponsored by the Campaign for Tobacco Free Kids and the United Health Foundation.
Kick Butts Day is a national day of activism that empowers youth to  speak out, and stand up for their generation, which is the most targeted group by tobacco companies. More than 1,400 events are taking place across the country today.
Everyday more than 3,000 kids under 18 try smoking, and 700 kids become new, regular smokers. Tobacco remains the leading cause of preventable death; yet, tobacco companies around the world are working every day to market to youth and teens by using bright colors, candy flavored tobacco products, and packaging that closely resembles that of candy or gum.
The Campaign for Tobacco-Free Kids is a leading force in the fight to reduce tobacco use and its deadly toll in the United States and around the world. Like us, they know that when smoking is discouraged, people are healthier. Their mission is to save lives by advocating for public policies that prevent kids from smoking, help smokers quit and protect everyone from secondhand smoke.  To accomplish this they work to:
Promote public policies proven to reduce tobacco use and exposure to secondhand smoke. These include higher tobacco taxes, comprehensive smoke-free laws, well-funded tobacco prevention and stop-smoking programs, and tough regulation of tobacco products and marketing.
Expose and counter tobacco industry efforts to market to children and mislead the public.
Strengthen tobacco control efforts in the United States and worldwide by providing support and information to our many partners.
Mobilize organizations and individuals to join the fight against tobacco.
Empower a tobacco-free generation by fostering youth leadership and activism.
Inform the public, policy makers and the media about tobacco's devastating consequences and the effectiveness of the policies we support.
This year, Davidson River School students will be learning about how tobacco is marketed to youth and how tobacco executives are using bright colors and candy flavors to cover up the dangers of tobacco. Through events like these, we can hold tobacco companies accountable for their deceptive marketing, educate our youth, and join the fight for a healthier future without tobacco. To learn more about Kick Butts Day or to schedule an event, click here.