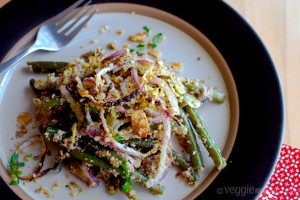 There are few Thanksgiving dishes more loved than a green bean casserole. While there may be some variations in the recipes, the basics remain the same: lots of tender green beans in a creamy sauce (often a simple can of Cream of Mushroom soup) topped with crispy fried onions. Just typing that sentence was enough to make our mouths water!
However, as much as we love the classic dish, let's be honest: it isn't exactly good for our health. However, we found this recipe  that makes over the traditional green bean casserole into a healthy, but equally satisfying dish. If you're trying to lower the calorie count at Thanksgiving this year, this recipe is a great place to start.
For more great Thanksgiving recipe ideas, check out our Pinterest page!
Healthy Green Bean & Mushroom Casserole
Recipe & Photo courtesy of What Would Cathy Eat?
For the casserole filling:
1 pound fresh green beans
3½ ounces raw walnuts, soaked (preferably overnight or for at least 30 minutes)
1 tablespoon tahini paste
1 cup low fat or non-dairy milk
½ pound cremini or button mushrooms, sliced
2 garlic cloves, minced
1 tablespoon organic canola oil
1 tablespoon extra-virgin olive oil
½ teaspoon soy sauce
¼ teaspoon cayenne pepper
1 tablespoon all-purpose flour
2 bay leaves
For the topping:
1 medium red onion, sliced into thin rounds
½ cup quinoa flakes
¼ cup flaked (sliced) almonds
2 teaspoon dried marjoram
2 tablespoons extra virgin olive oil
Heat the oven to 350 degrees (176°C).
Top and tail the green beans and steam for about three minutes, until bright green. Remove from heat and plunge into a bowl of ice water. Drain and set aside.
Prepare the topping: Separate the sliced onion into rings and toss with the quinoa flakes, almonds, olive oil and marjoram.
Drain the walnuts and blend in a food processor with the tahini and half the milk, until smooth and creamy.
Heat the canola and olive oils over medium heat in a heavy-bottomed saucepan. Add the garlic and cook for one minute. Add the mushrooms, tamari or soy and cayenne pepper. Continue to toss, cooking the mushrooms evenly until soft and golden. Add the flour and cook, stirring, over a low heat for one more minute.
Add the walnut mixture, the remainder of the milk, and bay leaves. Bring to a very gentle simmer and allow to reduce and thicken over low heat for a few minutes, stirring. Once the sauce has thickened, season with fresh cracked pepper and sea salt to taste, and remove the bay leaves.
Arrange the steamed green beans in a good-sized casserole dish, top with the mushroom sauce and then the onion topping.
Bake for around 20 minutes, until it's bubbling hot and the top is nicely golden.
Serves 6-8 as a side