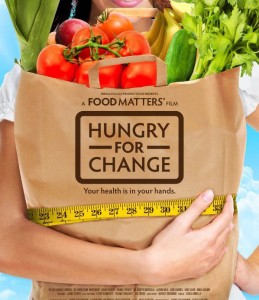 Jackson County Department of Public Health will host a free screening of the documentary film, "Hungry for Change" on Tuesday, December 15, 2015 at 5PM at the Jackson County Public Library in the Community Room. Light refreshments will also be served.
Hungry for Change examines the claim that most degenerative diseases, like diabetes and pre-diabetes, can be controlled and even prevented with diet.
According to the Jackson County Community Health Assessment:
10% of Jackson County residents have been diagnosed with pre-diabetes, a condition that may lead to diabetes without lifestyle change.
The prevalence of diabetes among Jackson County adults from 2005-2011 was 10.7%, a rate that has been steadily increasing.
The rising incidence of adult diabetes may be correlated with the high prevalence of adult obesity in our community—close to ⅓ of residents are considered obese.
Diabetes is a costly disease; the American Diabetes Association estimates that the total estimated cost of diagnosed diabetes in 2012 was $245 billion, including $176 billion in direct medical costs and $69 billion in reduced productivity.
The movie screening will be followed by an informational session on the Diabetes Prevention Program (DPP). DPP is an evidence-based lifestyle change program for weight loss and preventing type 2 diabetes. Come learn if this program is right for you.
RSVP for the event by calling Melissa McKnight, Health Education Supervisor, at 587-8288. Reservations not required but recommended.