At MountainWise, we know that eating healthy foods strengthens our health and contributes to an increased quality of living.Thanks to the wonderful, hard working farmers and growers in our Region and the abundance of natural resources and farmland, we are lucky enough to be  able to enjoy a wide variety of fresh and local fruits and vegetables. To honor the work and unique contributions of our local food producers, our partners at Buy Haywood are hosting a spectacular two weekend "Special Foodie Event", the Uniquely Local Food Crawl. The crawl will take place on August 21-24th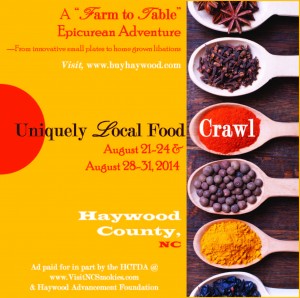 and August 28th-31st at participating locations and will feature the local, tasty rewards of another bountiful harvest season in the Great Smokey Mountains! Rumor has it the crawl is shaping up to be the premier culinary event of the summer. The Uniquely Local Food Crawl includes "Farm to Table" Partners crisscrossing Haywood County who are creating specialty menu items highlighting the rich farming and agricultural heritage of the community while offering a variety of epicurean adventures. The specialty menu items will feature "Farm to Table" flavors, from innovative small plates to home grown libations- what better way is there to enjoy delicious, local foods and support the farmers and growers in our region then exploring the unique offerings of Haywood County with visitors and locals alike?! Eating local foods supports our local economy, contributes to greater health because of the increased nutrients, and best of all, they have abundantly more flavor. Food crawlers can choose to dine over several days at the participating venues or treat the event like a "progressive dinner" eating at several venues all in one night. Each crawl destination will offer you a chance to enter to win a uniquely local prize. The Buy Haywood community of Agripreneurs has stepped up to offer a variety of wonderful prizes that are featured on the Buy Haywood website.  Be sure to check out the Food Crawl Destinations and Events calendar here.
While you are in town, be sure to pick up a copy of Buy Haywood's Find your Adventure! 2014 Agritourism Guide to visit:
Farmer & Tailgate Markets • Award Winning "Farm to Table" Restaurants • Uniquely Local Jams, Jellies, Savory Spreads & Artisan Pickles • Specialty Retail Shops • Rustic Hospitality Venues • Heritage Festivals • U Pick Farms • Historic Preservation Sites • Educational Opportunities for all Ages • 2014 Calendar of farm-related events and activities!